TIFFANY GOMEZ'S WEDDING DRESS
DESIGNED BY JOHN DE PERALTA
The dress is two pieces: a white lace corset with Victorian-inspired puff-sleeves and ivory silk draped over the bodice worn with a layered chiffon skirt.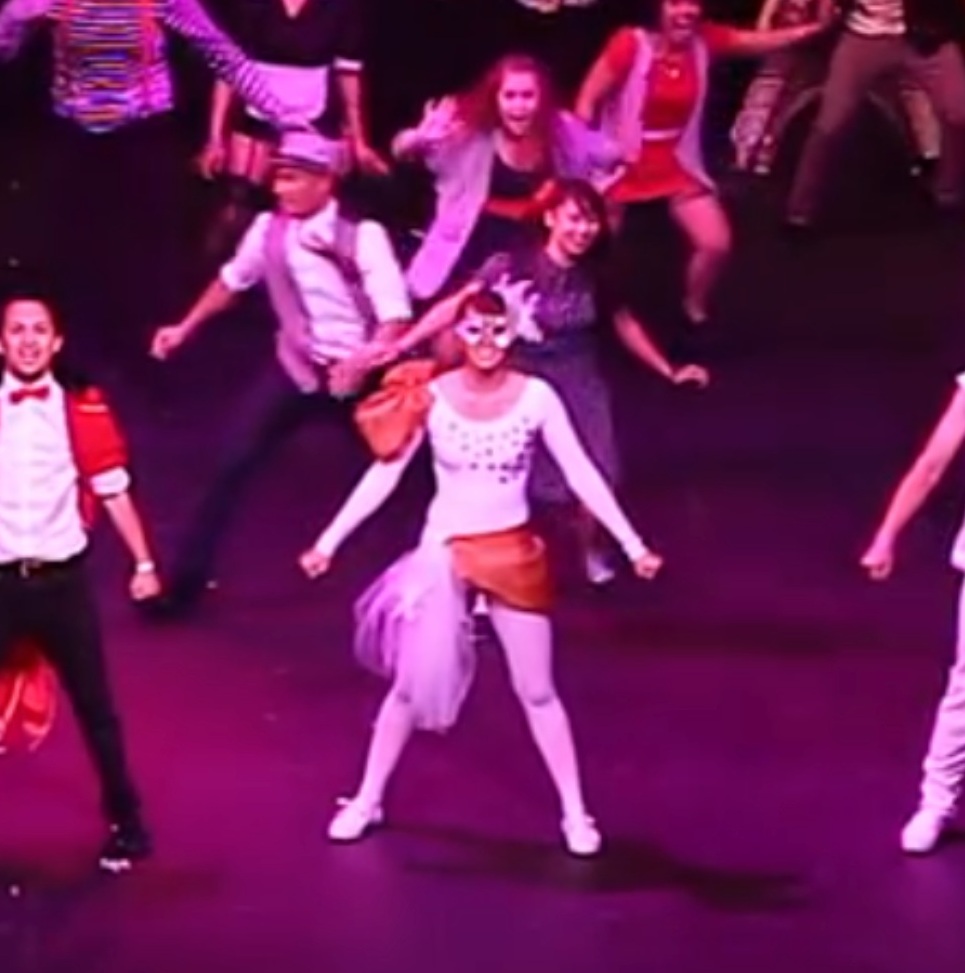 The inspiration behind Tiff's dress was actually Tiff herself—specifically her in a Cirque du Soleil-inspired costume I designed in 2013.
We met on a collegiate dance team and had a Paris-themed set where we closed off with a Cirque du Soleil performance.
She was wearing this costume when Luis first saw her backstage so I thought it'd be a beautiful full circle moment if I designed her reception dress almost 6 years later.
The Cirque du Soleil costume which was a last minute crafternoon project had a puff sleeve—just one—and a short asymmetric skirt, so I wanted to create the grown-up, 2019 version.
Tiff looks amazing with an open neckline (which is apparent in her ceremony dress and also i this yellow knit dress with puff sleeves I found in DTLA) so I wanted to continue this theme from her ceremony dress into her reception dress.
The skirt was my biggest challenge knowing that she would be performing their first dance in this dress, I had to make sure it'd be something she'd be able to move in easily, which is why I went for a flowy skirt that was asymmetric and opened around her legs. When I found the chiffon for it, I knew it would give the perfect flouncy effect on the dance floor. The skirt is adjustable as well. We didn't want to sacrifice the drama of a long train for any pictures so we were able to make it shorter for when she danced.
About a month before the wedding, we realized we still didn't have the perfect reception dress. We were going back and forth for weeks sending each other screenshots of dresses that weren't quite the one until one day I joked that it should just be custom. Realizing that it wasn't a completely crazy idea, I started coming up with ideas for it.
I needed to see my ideas come to life so I had a fashion illustrator, George Hilton sketch them out. Once I was happy with 3 different options, I sent them to Tiff for her approval. We both decided on the same one which I then sent to our tailor, Cristina Padilla. I sent it to her right before the holidays which was a week before the wedding. I was a little stressed knowing that she'd probably be busy around then, but I had faith that she would be able to execute it beautifully. The first day we all could meet was the Wednesday before the wedding and that stressed me out knowing it would be a short turnaround if we had to make any major changes. Fortunately, what Cristina ended up making by that Wednesday, although unfinished, was already a lot more beautiful than I had originally envisioned. With just one sleeve and an incomplete, unhemmed skirt, I already knew it would be a moment.
Sketched by George Hilton